About the company
Adonai Química S/A – Port Operator, strategically installed in the Organized Port of the city of Santos, left bank, on Barnabé Island, offers its customers carbon steel and stainless steel tanks. Located at about 300 meters from the vessels' berth, the company counts on a highly qualified safety team for liquid loads operations which allows providing excellent quality level of storage services to its clients combined with an innovative project.
The company operates in the storage and handling of bulk liquids in general, with emphasis on the foollowing class of products: corrosive, flammable, petrochemical, chemical, vegetable/mineral oils and fuels, according to Rule (NBR) 17,505 - Class I (Norma (NBR) 17,505 - Class I), providing services on import, export, cabotage and local market operations, certified for goods placed under the customs warehousing procedure.
Infrastructure:
The terminal has an infrastructure that covers an area of 27,500 m², where there is a tank farm, consisting of 50 tanks of carbon steel and 14 stainless steel 316 L, 14 lines of stainless steel of 8 inches that interconnects the tank farm to the vessel berth.
A 12-point platform for loading and unloading trucks, equipped with loading arms, overfill sensor and grounding. Adonai has a modern electronic monitoring system - CCTV, which allows the monitoring of all operation 24 hours a day. ISPS Code - Operates within the established international procedures.
Aiming at making operations more flexible, the terminal operates with 8 mass totalizers, wich allows includingroad trains in a traceable, agile and safe way, with reliability and precision in the loaded volumes.
Operations Management and Inventory Controls are done by module, which allows for the traceability of the entire operation in the terminal with daily issuance of inventory reports to its customers.
The terminal uses tracking equipment in the truck loading and unloading operations for better determining the permanence time of the vehicles at the Adonai terminal, working with the system of vehicle scheduling, thus offering a better operational view of the vehicles to our clients.
---
Structure
72 storage tanks (1 to 7 basins).
72 loading pumps (80 and/or 120 m³/h).
14 export pumps (300 m³/h).
1 tank truck loading platform (12 points).
Nitrogen distribution (6000 Nm 3/h @ 8.0 bar).
Compressed air generation and distribution (pumping rate from 386m³/h to 800 m³/h @ 8,0 bar).
Volatile Organic Compounds burning system (VOC).
Tank´s capacity
15 carbon steel tanks of 600 m³.
2 stainless steel tanks of 600 m³.
5 800 m³ carbon steel tanks.
12 800 m³ carbon steel tanks.
14 1,200 m³ carbon steel tanks.
12 1,500 m³ carbon steel tanks.
6 2,100 m³ carbon steel tanks.
6 carbon steel tanks of 3,200 m³.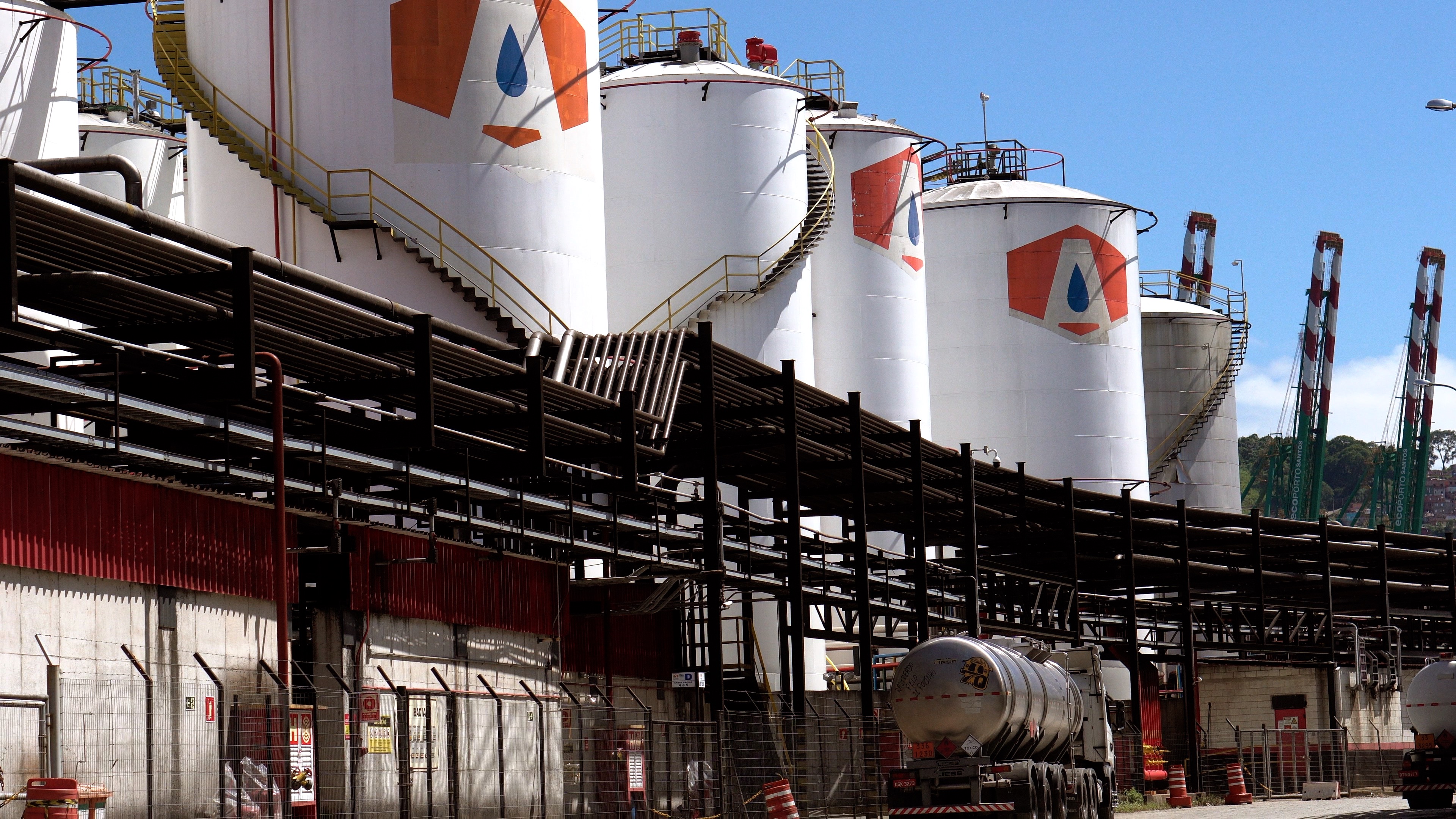 Investments:
Seeking innovation and expansion, Adonai has started an expansion project for storage capacity which is expected to grow 18% in a year. The Plan foresees the construction of 5 carbon steel tanks (1 2,100m³ tank, 2 3,200m³ tanks and 2 4000m³ tanks) plus 2 pier lines, thus increasing the capacity from 92 thousand m³ to 108 thousand m³.
Code of Ethical Policy and Conduct
I. Who is the ABA Infra Group's Code of Ethical Policy and Conduct for?
First, we emphasize that, when we approach the ABA Infra Group, we are mentioning the eight companies that are part of it: Eudmarco, FCA Log, Adonai, Toronto, Argemil, Concais, Contermas and Pier Mauá.
The general rules presented in this Code must be followed by all Managers, Employees, service providers, third parties and by anyone who acts on behalf of the ABA Infra Group and its controlled companies, as they present elements considered essential that must be followed in the relationships established with the different audiences for the creation of successful partnerships.
The Code of Ethical Policy and Conduct considers the following audiences, although it is not limited to them: shareholders and investors, trade associations, trade unions, banks, customers, employees and other internal audiences, community and society, competitors, suppliers, Government, regulatory bodies and the press.
It is of utmost importance that everyone understands and respects our Code, in addition to all company policies and standards, laws and regulations in the locations where we operate.
If any employee has any doubts about the correct way to act or interpret any point of the Group's Code, he / she should ask his Manager or the Human Resources Department for guidance.
If you are a service provider, you should contact your company representative or seek help from your contract manager.
The ABA Infra Group has the collaboration of everyone so that this Code of Ethical Policy and Conduct is practiced daily.
II. Our purpose
Our mission is to undertake with excellence, prioritizing ethics and safety, carrying out innovative operations.
Our destiny is to be among the main companies in the sectors of port infrastructure and logistics, fuel and tourism.
And we intend to follow this, following the values of making a difference, acting ethically and building partnerships based on trust.
We at ABA Infra Group have the following principles as pillars:
- Achieve recognition from Customers, the State and Society;
- Provide services with quality, punctuality, innovation and security;
- Keep employees engaged and motivated;
- Orient management to results, profitability and competitiveness;
- Employ innovative solutions with appropriate technology;
- Practice integrated and participative management;
- To act with ethics and citizen responsibility.
III. Basic principles of conduct
Respect, legality, impersonality, morality and efficiency are basic principles and highly valued by Grupo ABA Infra. No type of disrespect among its employees is tolerated in any of the Group's companies. Employees must have behaviors that follow our basic principles with all the different audiences that deal with their routine inside or outside their work environment, ensuring the confidentiality of confidential and relevant information to which they may have access, not using it to obtain advantages even if they no longer belong to the ABA Infra Group's staff. Everyone must comply with the rules, laws, regulations and procedures, acting in a transparent and integral manner, regardless of the function occupied or the area of operation, and it is forbidden to use their function within the ABA Infra Group to influence decisions that favor interests (themselves or third parties) that cause losses to any of the Group's businesses.
IV. About respect
At Grupo ABA Infra, we value the diversity of employees to build a team. We always seek to build a work environment with a productive and creative focus, promoting equal opportunities, meritocracy and seeking that our employees act in a harmonious and respectful manner to all the characteristics and options of all, regardless of their differences.
In the same way that we expect the respect of our employees, we seek to promote a respectful, welcoming, dialogue and safe environment for our employees, with management practices aimed at preventing accidents, equipment and safe installations in terminals and offices. We encourage everyone to adopt responsible behavior and we do not accept that the attitude of a person (whether he is a collaborator, supplier or customer) puts the health and safety of himself and that of other employees at risk.
The ABA Infra Group respects and promotes Human Rights by not engaging in practices such as discrimination, sexual exploitation of children and adolescents, child labor, degrading and forced labor or analogous to slavery.
V. On the relationship with suppliers
Healthy, fair and sustainable relationships with customers and suppliers are valued by Grupo ABA Infra.
For this, it is essential that everyone obey the legislation and that there is fair treatment between our suppliers and their employees.
We encourage supplier relationships to be built ethically. For this reason, the receipt of gifts and gifts is authorized by the ABA Infra Group, as long as it does not occur to influence decisions or obtain undue advantages and there is a formal approval from our Executive Board.
VI. About social networks
The ABA Infra Group, as well as its member companies, has official channels on social networks and only they can represent companies.
Employees who choose to register on social media must act on their own and with private resources.
When publishing their opinions, they must act in a totally personal way, without associating the companies, not disclosing information or any opinion that compromises the Group or the companies.
Profiles of social networks associated with the ABA Infra Group or companies should only be used by the area responsible for authorizations and publications in the media.
VII. On the repudiation of corruption and ideological falsehood
The ABA Infra Group guides its employees to promote their services in a clear and truthful manner, not authorizing any form of favoring their audiences (whether they are suppliers, customers or representatives of the government) and repudiating any form of corrupt conduct, whether bribery, deviations, concessions of undue advantages, among others.
In addition, we do not accept the amendment of our documents and records or the omission of the truth to obtain any kind of privilege or advantage.
VIII. Cases of violation of the Code of Ethical Policy and Conduct
Anyone can report cases of violations of the Code of Ethical Policy and Conduct.
To do so, you must report the fact to your superior or forward the complaint to the Conduct and Ethics Committee. The information and / or complaints received will be treated confidentially and the informant's identity will be preserved. Violation of any conduct or practice is subject to penalty upon assessment by the Conduct and Ethics Committee and will be subject to the application of current Brazilian laws